Enjoy these advantages with us..
• Easy and quick installation
• You can even Do it yourseld(DIY) by following simple instructions.
• Every workman will be able to handle the installation.
• Installation uses only adhesive, nails (with an air gun) or tools normally requires for the installation of wood products.
• Durable, light weight yet not esily damaged.
• Flexible & portable
• Easy to handle.
• Water and heat resistant under proper storage & installation conditions.
• Borer and termite free.
• Not susceptible to cracks or wrapin under proper storage, handling and installation conditions.
• Ready to be painted
• Designed and manufactured with optimum depths, relief and sharp details.
• Ideal for multi-purpose decoraion and design concepts.
• While primer coating produces a smooth surface ready for various required finishes like wood, crackle, marble effects, etc.
• Generally cleaner than installing plaster products, as there is lesser powder emission.
• Every profile manufactured to straingent quality control standards. Large selection of choices avialable.
Our products are easy to install with the correct tools and some simple instructions.
Installing cornices required tools :
• A quality mitre box 
• A fine toothed saw. (A coping saw would be required for cutting curves).
• A measuring tape of at least 10feet kength.
• A pressure gun.
• A dispenser gun ( for adhesive and filter)
• Adhesive
• Matching colour filter
• Finishing nails
• A nail set ( to punch nails heads below moulding surface).
• A hammer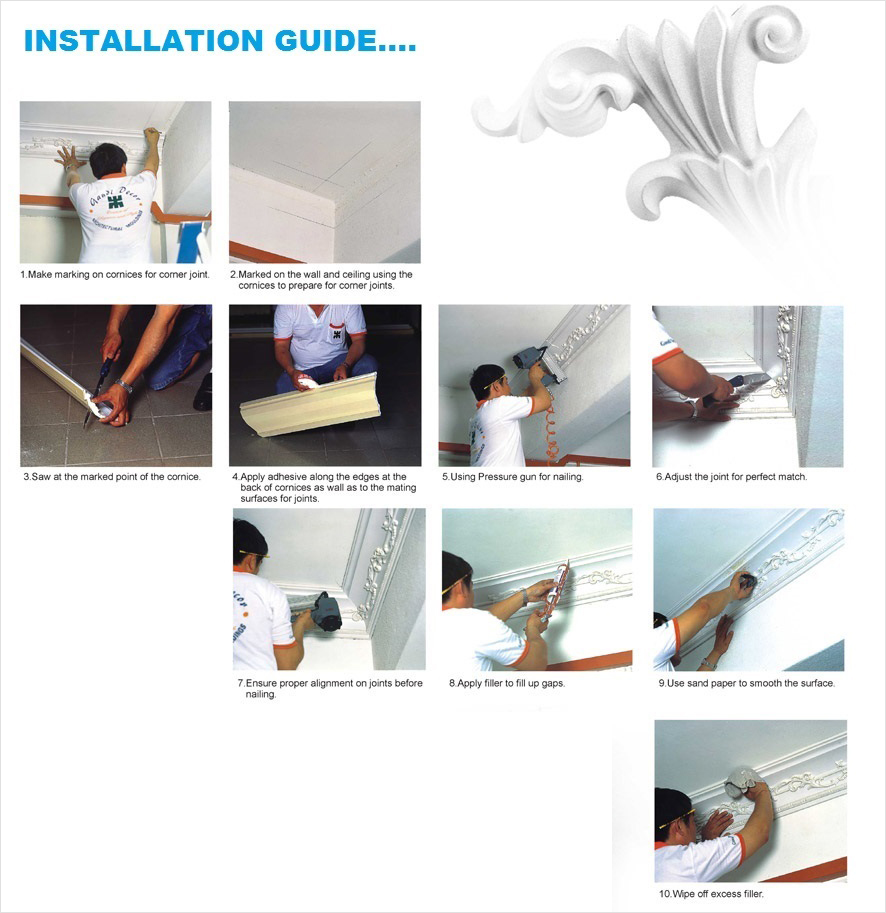 Manufacturing And Selling Polyurethane (PU) Decorative Building Materials For Interior And Exterior Decoration